Buscar por Storage Capacity
Ofertas por tiempo limitado
About Apple iPhone SE
A big step for small.

Welcome to iPhone SE, a powerful 4 inch phone. Starting with a beloved iPhone design, the inside out is reinvented. The A9 has the same chip used in iPhone 6s. A 12 MP camera takes photos, Live Photos, and 4K videos.

A beloved design. Now with more to love.

iPhone SE takes a popular design and refines it even further. Using bead-blasted aluminum, this compact phone fits comfortably in your hand. A 4‑inch Retina display, matte-chamfered edges, and a stainless-steel logo finish the look.

Super-efficient M9 motion coprocessor.

The M9 motion coprocessor connects to the accelerometer, compass, and gyroscope for a range of fitness tracking capabilities, such as measuring your steps and distance. Connects to Siri with no-touch commands via voice.

Security, right at your fingertips.

Touch ID makes unlocking your iPhone SE simple and secure. After all, your fingerprint is the perfect password — no two are alike, and you always have it with you.
eBay has provided more information about this product above and is not affiliated with or endorsed by Apple.
Price Trends
Apple iPhone SE - Price New and Used
New Price*
from $155 to $252
Used Price*
from $84 to $105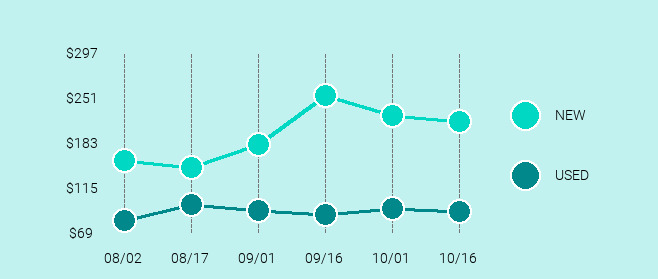 *The average sold price is calculated based on "Buy It Now" items sold within the 90 day period described above (excluding shipping and handling). Each interval represents a 15 day period. There is no guarantee that items will always be listed at a price within the provided range.
Compare Similar Models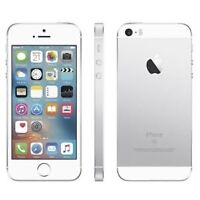 Apple iPhone SE
Display Resolution
640x1136
Operating System
iOS 9.3.2, upgradeable to 12.1
Camera (Rear/Front)
12/1.2 MP
Dimensions
4.87 x 2.31 x 0.3 inches
Internal Memory
16/32/64/128 GB
Processor
Dual-core 1.84 GHz
Battery Capacity
Up to 14 hours 3G talk time (1624 mAh)
Top 10 High ratings
Top 5 Low ratings
Still Relevant!

I started with iPhone, but along the way switched to Samsung Galaxy. While the screens are bright and they are in many ways better, the iPhones accessories and mainstay capabilities are second to none. I am using this model for a B-Roll camera on a stabilizer. It has seamless integration with my iPad and iPod. I transfer video files from my GoPro to Apple devices and between my Apple devices flawlessly. The battery lasts an eternity and charges lightning fast. Yes there were a lot of things I really missed about Apple and the SE is still an awesome phone. It is equivalent to an iPhone 6s only with a smaller screen or a Galaxy S5 only no supersized OLED screen, memory card slot, water resistance, and well I miss my Galaxy. That being said Apple has better video editing apps, after market lenses, aftermarket gimbal stabilizer integration, and the list goes on. Are you an everyday user, the Galaxy S5 is the better choice. Is your phone a multipurpose tool? The iPhone SE is your answer. Good luck with your choice.

Verified purchase: Yes

Smallest Cheapest iPhone

Replacing my "feature phone" after many years of holding off. The cell frequencies that "dumb phones" use just don't penetrate buildings and hilly areas as well as the lower bands that smart phones employ. I was therefore forced into the modern world of constantly recharging a phone. This phone has an average battery life for a smart phone (±9hrs of use.) Where my old phone had no signal, I have very good signal now (T-Mobile USA). The form factor is akin to older phones as well. I am used to Apple devices but didn't want to break the bank by signing an expensive contract for an expensive phone. Although $375 is expensive, it's a bargain compared to the $450 list price. It should last for many years to come. The iPhone SE is a very slick device: lightweight, sturdy, and easy to use. Call quality is very good, including speakerphone use. I have not purchased a data plan, and am going to use wi-fi and a hotspot for internet needs. Overall very satisfied.

Verified purchase: Yes

Great purchase at a great price

My girlfriend had lost her phone and needed another in a pinch. With a little bit of patience and research I found this iPhone for a steal. No it wasn't in perfect condition (superficial scratches on the device) but it was advertised as such. It was the best price for a 64gb device that I had seen up until that point in my phone search. The phone works perfectly and my girlfriend is so happy that we didn't have to pay 6-700 for a new one for her. She had an iPhone 6S but settled for this since it could handle what she needed out of the phone. Activating the phone was simple and free (Sprint) and it's working perfectly. It's shipped very quickly too, if I'm not mistaken it got here in 2-3 days. Extremely happy with my purchase and would definitely do it again if circumstances required it.

Verified purchase: Yes

What I wanted for less

I was happy enough with a 5s 16gb but needed more memory for apps and other data. The item arrived in the promised condition - refurbished, like new with specified accessories at a substantial savings over new. As expected, it fits exactly in the 5s case I've been using that I like. Functionality seems to be complete. My usage pattern is fairly light - based more on data than on phone calls. I charge it every night and this works for me without any apparent likelihood of it dying during the day or evening. I don't know if a larger-bodied phone would provide longer battery life for the heavy caller, but I suspect not. This fits in my shirt pockets and I can read the screen. I figure I'm good for another three or four years.

Verified purchase: Yes

fast form factor

advertised and received as 'as new' condition. battery life is good, phone condition excellent. 64gb new SE for $197 was a great deal. the 16gb is useless 32 or 64..+ is the only option, imo. i had a 'big' phone before and it didn't fit into any pocket well, was annoying. the screen size isn't ideal but the form factor and functionality is a huge plus for a sub $200. SE operating tests come in just a little slower than the 7 and 8..seconds i don't ever notice or miss. if a small phone is for you, then this is your small phone. ACESSORIES- the Spigen SE/ 5 case and glass screen protectors are a must for this little beast. they fit well, look great and give (++) protection for (--) cost.

Verified purchase: Yes

My first iphone

I have been an android user since smartphones first came out for the most part, and was overall pleased with android. I recently decided to purchase an iphone at a friend's suggestion. The battery life is much worse than what I had before, but overall the usability is much better, and I love how fast everything loads. My old phone was always freezing up, and I don't have that issue with this phone, I'm very pleased. I would say that overall the phone is great, but the major drawback for me is battery life. I use my phone a lot, and have to charge it twice a day, and leave it on the charger all night or it dies while I'm sleeping.

Verified purchase: Yes

#1 emergency/backup/cycling phone in 2020

This phone has a headphone jack, the AT&T-locked version is compatible with a Cricket SIM, it will be compatible with iOS 14, and you can probably get it less than $100 or even $50 used in 2020. It's small size is convenient for cycling or running, but it's too small to really enjoy most of the time, or to have as your only phone. The fingerprint scanner is also first gen, which is noticeably slower than second gen. This is an iPod killer that's a perfect backup, or temporary replacement for your larger phone. New batteries and battery cases are still available for not much $.

Verified purchase: Yes

iPhone SE is what I needed, ApplePay, LivePhotos, SuperFast, Better Battery Life

I tried the iPhone 6S last year and found it was too big for me to handle easily. I enjoyed the larger screen size when on Instagram or YouTube but it required two hands to operate and was constantly causing me mishaps. The SE is the perfect size for me and has almost all the feature of the 6S. Now if they'd bring back the black of the 5! Or better yet, the iPhone 7 deep blue. Paying more for the 64gb version is well worth it. 16gb is not enough for even a basic user who takes pictures or videos.

Verified purchase: Yes

Great phone, but aging fast.

This is the cheapest iPhone you can get that still gets software updates, and it's also super small and easy to use. It's the perfect phone for older folks that just need a phone on the cheap, which is why I bought it. It still totally gets the job done, but if you care at all about having updates for more than another year or if you like to have a good camera, this isn't the phone for you. Please spend a bit more money on another phone that has more life and is more advanced than this.

Verified purchase: Yes

Love this small phone

Great phone! I already own an iPhone SE for myself but I ordered another one for my mom. It is her first smartphone. I do not think the SE receive enough love. It is affordable, especially a pre-owned one on ebay. It has good performance and it does what I need. I waited for years for Apple to come out with another 4 inch screen. It doesn't seem like they care to make another 4-inch anytime soon. It's ok. I will patiently wait for that day. "The bigger, the better" for most people, but not to me.

Verified purchase: Yes